A Chapbook of
Prayers and Devotions to
Our Lady of Sorrows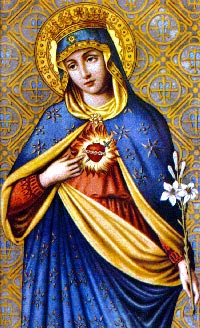 I
Stabat Mater
At the Cross her station keeping,
Stood the mournful Mother weeping,
Close to Jesus to the last.
Through her heart, His sorrow sharing,
All his bitter anguish bearing,
Lo, the piercing sword has passed!
O how sad and sore distressed,
Was that Mother highly blessed,
Of the sole-begotten One.
Christ above in torment hangs,
She beneath beholds the pangs,
Of her dying glorious Son.
Is there one who would not weep,
'Whelmed in miseries so deep,
Christ's dearest Mother to behold?
Can the human heart refrain,
From partaking in the pain,
in that Mother's pain untold?
Bruised, derided, cursed, defiled,
She beheld her tender Child,
All with bloody scourges rent.
For the sins of His own nation,
Saw Him hang in desolation,
Till his Spirit forth He sent.
O sweet Mother! fount of love,
Touch my spirit from above,
Make my heart with yours accord.
Make me feel as you have felt,
Make my soul to glow and melt,
With the love of Christ, my Lord.
Holy Mother, pierce me through,
In my heart each wound renew,
Of my Savior crucified.
Let me share with you His pain,
Who for all our sins was slain,
Who for me in torments died.
Let me mingle tears with you,
Mourning Him who mourned for me,
All the days that I may live.
By the Cross with you to stay,
There with you to weep and pray,
Is all I ask of you to give.
Virgins of all virgins blest!
Listen to my fond request:
Let me share your grief Divine.
Let me, to my latest breath,
In my body bear the death,
Of your dying Son Divine.
Wounded with his every wound,
Steep my soul till it has swooned,
In His very Blood away.
Be to me, O Virgin, nigh,
Lest in flames I burn and die,
In His awe-full judgment day.
Christ, when You shall call me hence,
Be your Mother my defense,
Be your Cross my victory.
While my body here decays,
May my soul Your goodness praise,
Safe in heav'n eternally.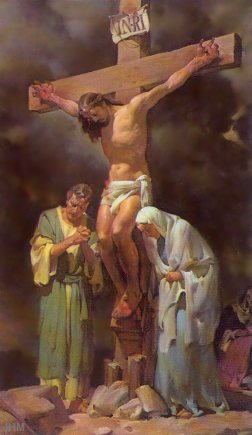 Prayers To Our Lady Of Sorrows
II
MOST HOLY and afflicted Virgin,
Queen of Martyrs,
You stood beneath the Cross,
Witnessing the agony
Of your dying Son.
Look down
With a mother's tenderness
And have pity on me,
Who kneels before you
To venerate you sufferings
And to place my request
With filial confidence
In the sanctuary
Of your wounded heart.
Present them,
I beseech you,
On my behalf,
To Jesus Christ,
Through the merits
Of his own
Most sacred Passion and Death,
Together with your sufferings
At the foot of the Cross;
And through the united efficacy of both,
Obtain the grant of my present petition.
III
O Mary, Mother of sweet sorrows, I beseech you by the bitter agony you did endure at the foot of the cross, offer to the eternal Father in my name thy beloved son Jesus, all covered with blood and wounds in satisfaction for my sins, for the needs of Holy Church, the conversion of sinners, the relief of the souls in Purgatory and for the special grace I now implore.
IV
To whom shall I have recourse
In my wants and miseries
If not to you, O Mother of Mercy,
Who, having so deeply drunk
Of the chalice of your Son,
An console with the sorrows
Of those who still sigh
In the land of exile?
O Holy Mary,
Whose soul was pierced
By a sword of sorrow
At the sight
Of the Passion
Of your Divine Son,
Intercede for me
And obtain for me from Jesus
(mention the request)
If it be for His Honor and Glory
And the good of my soul.
Amen.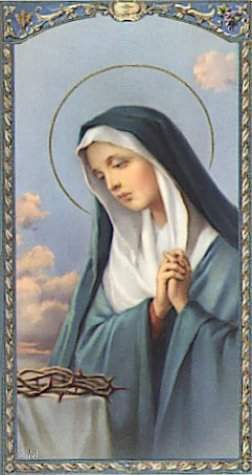 V
Litany of Our Lady of Seven Sorrows
by Pope Pius VII
(for private devotion)
Lord, have mercy on us. Christ, have mercy on us.
Lord, have mercy on us. Christ, have mercy on us.
Christ, hear us. Christ, graciously hear us.
God, the Father of heaven, Have mercy on us.
God the Son, Redeemer of the world, Have mercy on us.
God the Holy Ghost, Have mercy on us.
Holy Mary, Mother of God, pray for us.
Holy Virgin of virgins, pray for us.
Mother of the Crucified, pray for us.
Sorrowful Mother, pray for us.
Mournful Mother, pray for us.
Sighing Mother, pray for us.
Afflicted Mother, pray for us.
Foresaken Mother, pray for us.
Desolate Mother, pray for us.
Mother most sad, pray for us.
Mother set around with anguish, pray for us.
Mother overwhelmed by grief, pray for us.
Mother transfixed by a sword, pray for us.
Mother crucified in thy heart, pray for us.
Mother bereaved of thy Son, pray for us.
Sighing Dove, pray for us.
Mother of Dolors, pray for us.
Fount of tears, pray for us.
Sea of bitterness, pray for us.
Field of tribulation, pray for us.
Mass of suffering, pray for us.
Mirror of patience, pray for us.
Rock of constancy, pray for us.
Remedy in perplexity, pray for us.
Joy of the afflicted, pray for us.
Ark of the desolate, pray for us.
Refuge of the abandoned, pray for us.
Shiled of the oppressed, pray for us.
Conqueror of the incredulous, pray for us.
Solace of the wretched, pray for us.
Medicine of the sick, pray for us.
Help of the faint, pray for us.
Strength of the weak, pray for us.
Protectress of those who fight, pray for us.
Haven of the shipwrecked, pray for us.
Calmer of tempests, pray for us.
Companion of the sorrowful, pray for us.
Retreat of those who groan, pray for us.
Terror of the treacherous, pray for us.
Standard-bearer of the Martyrs, pray for us.
Treasure of the Faithful, pray for us.
Light of Confessors, pray for us.
Pearl of Virgins, pray for us.
Comfort of Widows, pray for us.
Joy of all Saints, pray for us.
Queen of thy Servants, pray for us.
Holy Mary, who alone art unexampled, pray for us.
Pray for us, most Sorrowful Virgin, That we may be made worthy
of the promises of Christ.
Let us pray, --- O God, in whose Passion, according to the prophecy of Simeon, a sword of grief pierced through the most sweet soul of Thy glorious Blessed Virgin Mother Mary: grant that we, who celebrate the memory of her Seven Sorrows, may obtain the happy effect of Thy Passion, Who lives and reigns world without end, AMEN.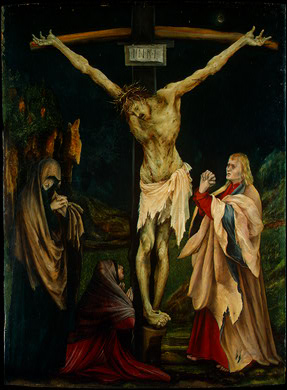 VI
Consecration to Our Lady of Sorrows
Most holy Virgin and Queen of Martyrs, Mary, would that I could be in Heaven, there to contemplate the honors rendered to thee by the Most Holy Trinity and by the whole Heavenly Court! But since I am still a pilgrim in this vale of tears, receive from me, thy unworthy servant and a poor sinner, the most sincere homage and the most perfect act of vassalage a human creature can offer thee. In thy Immaculate Heart, pierced with so many swords of sorrow, I place today my poor soul forever; receive me as a partaker in thy dolors, and never suffer that I should depart from that Cross on which thy only begotten Son expired for me. With thee, O Mary, I will endure all the sufferings, contradictions, infirmities, with which it will please thy Divine Son to visit me in this life. All of them I offer to thee, in memory of the Dolors which thou didst suffer during thy life, that every thought of my mind, every beating of my heart may henceforward be an act of compassion to thy Sorrows, and of complacency for the glory thou now enjoyest in Heaven. Since then, O Dear Mother, I now compassionate thy Dolors, and rejoice in seeing thee glorified, do thou also have compassion on me, and reconcile me to thy Son Jesus, that I may become thy true and loyal son (daughter); come on my last day and assist me in my last agony, even as thou wert present at the Agony of thy Divine Son Jesus, that from this painful exile I may go to Heaven, there to be made partaker of thy glory.
AMEN.
from The Servite Manual
VII
The Chaplet of Our Lady's Tears
This Rosary was revealed to Sr. Amalia in Campina, Brazil in 1929 and 1930 by Our Lord and His most holy Mother. It was confirmed supernatural by Bishop Campos Baretto.
Our Lords words to Sister Amalia on November 8, 1929 were: "My daughter, whatever I am asked through the tears of My Mother, I shall give lovingly." On March 8, 1930 the most Pure Mother stated: "Through this rosary the devil will be subdued and the power of Hell will be destroyed. Prepare yourself for this great combat."
Pray on the cross
Crucified Jesus! We fall at Your feet and offer You the tears of her who with deep compassionate love accompanied You on Your sorrowful way of the Cross. Grant, O Good Master, that we take to heart the lessons which the tears of Your most holy Mother teach us, so that we may fulfill Your holy will on earth, that we may be worthy to praise and exalt You in Heaven for all eternity. Amen.
Instead of Our Father, say:
O Jesus, look upon the tears of her who loved You most on earth
And loves You most ardently in Heaven.
Instead of the Hail Mary, say:
O Jesus, hear our prayers
For the sake of the tears of your most holy Mother.
At the end: (3 times)
O Jesus, look upon the tears of her who loved You most on earth
And loves You most ardently in Heaven.
Conclude with this prayer:
O Mary, Mother of love, sorrow and mercy, we beg you to unite your prayers with our so that Jesus, your Divine Son, to Whom we turn may hear our petitions in the name of your maternal tears and grant us in addition to the favors we ask now, the crown of everlasting life. Amen.
VIII
Prayer to Our Lady of Sorrows
Father,
As your Son was raised on the cross, His mother Mary stood by Him, sharing His suffering.
May she, who is also our spiritual Mother and Patroness in heaven, help us to find renewed strength at the cross of Christ and so to come to share in His rising to new life, where He lives and reigns with you and the Holy Spirit, one God forever and ever. AMEN.
Email
Return to Catholic Meditations